Protect Your Card And Personal Information
Direct Express® will never contact you by phone, email or text message to ask you for your card number, password, PIN or security code.
If you have responded to any communication asking you to provide any card or personal information, please inform Direct Express® customer service immediately by calling the number on the back of your card.
How do I sign up for a Direct Express® card?
To sign up for the Direct Express® card, please contact our enrollment center between the hours of 8:00 AM CST to 6:00 PM CST Monday through Friday.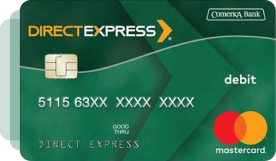 Already have a Direct Express® card?
For all questions related to the Direct Express® card, cardholders should call:
Customer service is available 24/7
We handle calls related to:
Reporting lost or stolen cards
Balance inquiries
PIN changes
Transaction history requests
Registering a complaint about a card issue
Questions about card usage
Questions about international card usage
You can also write to us at:
Direct Express®, Payment Processing Services.
P.O. Box 245998
San Antonio, TX 78224-5998